School Profile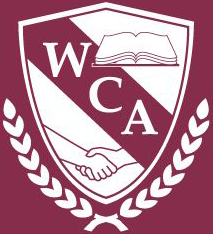 WILLIAM CAREY ACADEMY
School Profile
2016-2017
Administrative Staff
Marilou Long, Chancellor
Penelope Howder, Interim Director
Swopan Malaker, Assistant Director
Natasha Boykov, Head of High School Student Services
Mona Kach, Head of Middle School Student Services
Dana Clark, Head of Elementary Student Services and Teacher Services
The School: Located in Chittagong, Bangladesh's second largest city, William Carey Academy provides English-medium instruction using an American curriculum. The goal of the school is to provide a model of international-standard education which will prepare Bangladeshi students for study at world-class universities. The school was founded in 1996 with grades KG—Class 3. Each year a new class was added, and in 2006 the first graduation of the 12th grade was held.
Student Body: School enrollment for the 2015-16 school year is 367 students, 92 of whom are in the high school. We reserve 90% of the seats in our school for Bangladeshi students, with the other 10% set aside for expatriate students. In order to provide opportunities for a wide variety of students we offer financial assistance for 20% of our families. Our students come from nearly every economic level in Bangladesh.
Faculty: The instructional staff of WCA is divided between Bangladeshis and expatriates. The majority of our high school teachers have degrees from universities in the United States.
Curriculum: WCA offers a traditional American curriculum in a distinctly Bangladeshi context. All courses except Bengali and foreign languages are taught in English, and English is used in all school related activities. We balance this focus on English use by celebrating Bangladeshi holidays, teaching Bengali language and observing Bangladeshi customs when possible. Our KG—Class 12 program is accredited through ACSI which is recognized by the North Central Association of Schools and Colleges.
Graduation Requirements: WCA offers a challenging college-preparatory program. Students are required to take the following credits: English 4.0, Social Studies 4.0, Science 3.0, Math 3.0, Foreign Language 2.0, Bengali language 2.0. A variety of enrichment and elective courses in moral education, fine arts computer technology, and physical education are also offered. In addition to academic coursework, each senior must develop a senior project that addresses a social issue in Bangladesh. The project involves research, writing a 3000 word paper and creating a 30 minute presentation with question and answer time about that issue.
Extra-curricular activities: WCA offers a variety of extra-curricular activities. Our sports program consists of interscholastic and intramural sports for both boys and girls. Sports offered include basketball, soccer, volleyball, cricket and table tennis. Students may also choose to participate in yearbook, school paper and student government.
GPA/Class Rank: WCA uses a 4.0 weighted scale. Due to our small class size and competitive student body we do not rank students except to determine valedictorian and salutatorian. These ranks are based on cumulative GPA from grades 9-12. All graded subjects are included in the GPA. Our grading scale is as follows:
| | | | |
| --- | --- | --- | --- |
| Percentage | Letter Grade | American GPA (4.0 as highest mark) | Equivalent GPA (5.0 as highest mark) |
| 93-100 | A | 4.0 | 5.0 |
| 85-92 | B | 3.0 | 3.75 |
| 75-84 | C | 2.0 | 2.5 |
| 65-75 | D | 1.0 | 1.25 |
For example, if a student receives a 3.8 GPA from William Carey that would be the equivalent of a 4.75 GPA from a British-system school.
Test Results: The average SAT results for the class of 2016 were:
| | | |
| --- | --- | --- |
| | Score | Percentile |
| Critical Reading | 548 | 66 |
| Mathematics | 552 | 65 |
| Writing | 567 | 64 |
| Total | 1667 | 65 |
College Placement: WCA Graduates have received admission to the following universities:
American International University Bangladesh – Dhaka, Bangladesh
Assumption University – Bangkok, Thailand
BIRDEM Medical School – Dhaka, Bangladesh
Bethel University – Tennessee, USA
BRAC University – Dhaka, Bangladesh
Bucknell University – Lewisburg, Pennsylvania, USA
Cardiff Law School – Cardiff, Wales
Carleton University – Ontario, Canada
College of William and Mary – Williamsburg, Virginia, USA
Cornell University – Ithaca, New York, USA
Dhaka University Institute for Business Administration (IBA) – Dhaka, Bangladesh
HELP University College – Kuala Lumpur, Malaysia
Illinois Institute of Technology – Chicago, Illinois, USA
Independent University of Bangladesh – Dhaka, Bangladesh
Ithaca College – Ithaca, New York, USA
Kent University – London, England
Macquarie University – Sydney, Australia
Memorial University – Newfoundland, Canada
Multimedia University (MMU) – Cyberjaya Campus, Malaysia
North-South University – Dhaka, Bangladesh
Purdue University – West Lafayette, Indiana, USA
Queen Mary's University – London, England
State University of New York – Binghamton, New York, USA
Stony Brook University – New York, USA
Texas A&M University – College Station, Texas, USA
University College of Creative Arts – Canterbury, England
University of British Columbia – Vancouver, Canada
University of Edinburgh – Edinburgh, Scotland
University of Sydney – Sydney, Australia
University of Toronto – Toronto, Canada
Virginia Polytechnic University – Blacksburg, Virginia, USA
Wheaton College – Wheaton, Illinois, USA